Dentures – Itasca, IL
Get Your Full Grin Back
If you've been without teeth for a while, you know it's a difficult situation. Lacking a whole grin turns many everyday tasks into daunting challenges. Still, tooth loss isn't something you have to endure. You can always solve the problem with dentures in Itasca! At Hamilton Lakes Dentistry, these replacement teeth will restore your smile to full working order. Read on to learn more about how they work, or book a consultation visit with us!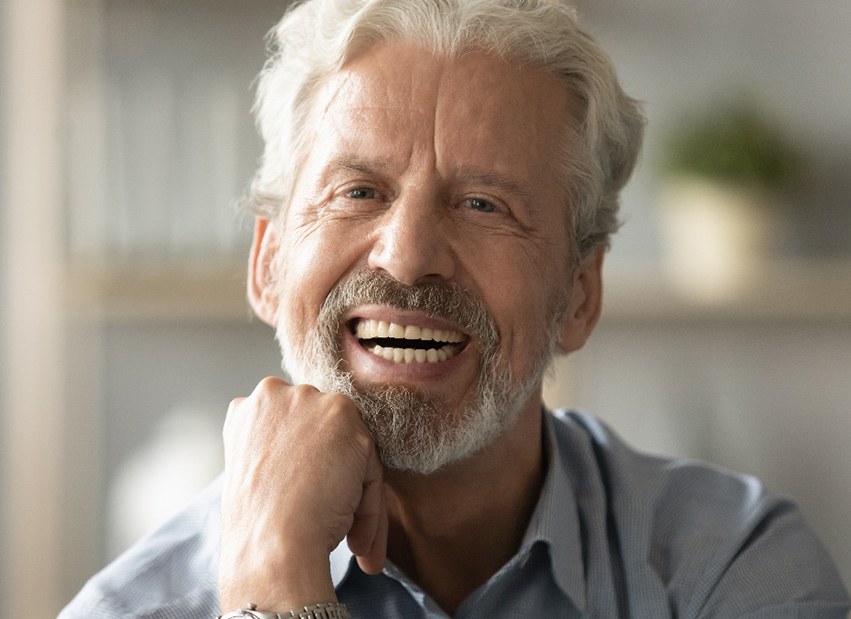 Who is a Good Candidate for Dentures?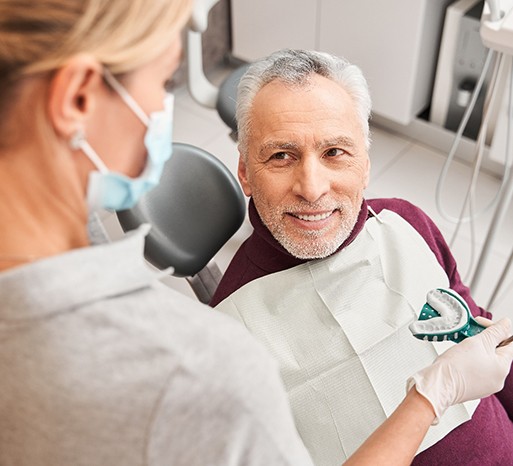 As you'd expect, the best denture candidates are those suffering from the effects of missing teeth. These individuals struggle to eat their favorite foods, speak clearly, and smile confidently. Given such trials, they endure a lower quality of life.
Of course, consulting our dentists is the best way to confirm your candidacy. They'll perform an oral exam to see if dentures suit you. Should our office approve treatment, the whole team will draft a treatment plan to meet your needs.
All that said, not everyone with tooth loss may need dentures. For example, someone who still has teeth along an arch may benefit from a dental bridge or dental implants instead.
Types of Dentures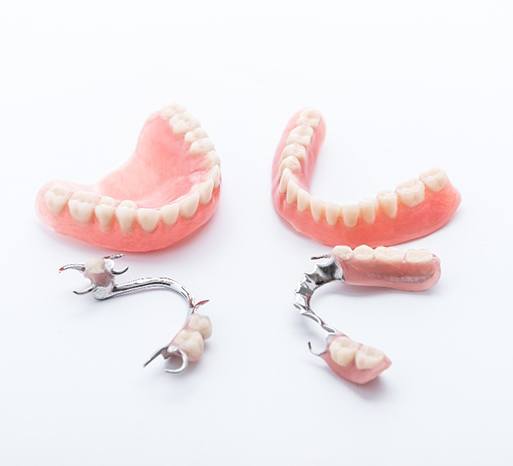 If treatment is approved, a consultation will also settle what kind of dentures you need. (There's more than one type of these restorations, after all.)  By the time it ends, in fact, the treating dentist will have suggested one of three possible varieties:
Partial Dentures
Per the name, partial dentures only replace a few teeth at most. They thus secure themselves with metal clasps that loop around your remaining pearly whites.
To ensure seamless results, dentists make each partial denture with an acrylic, gum-colored base. This component sits on the gums and helps keep other teeth from tilting.
Full Dentures
Full dentures (unlike partial ones) replace an entire arch's worth of teeth. As a result, they stay in place with natural suction instead of clasps.
A full denture's base doesn't differ much from a partial's. It uses acrylic, gum-colored material just like other kinds. However, this denture part does sit more snugly due to being custom-made for your whole mouth.
Implant Dentures
You could try implant dentures if you'd like a more permanent and unwavering option. These kinds are more stable than the other choices and are great alternatives to standard models.
Implant dentures attach to (and get their name from) dental implants – restorations surgically placed in the jawbone. As these latter prosthetics become permanent parts of your jaw, they stimulate it to prevent deterioration. Therefore, the whole appliance is kept from slipping or falling from your mouth.
The Benefits of Dentures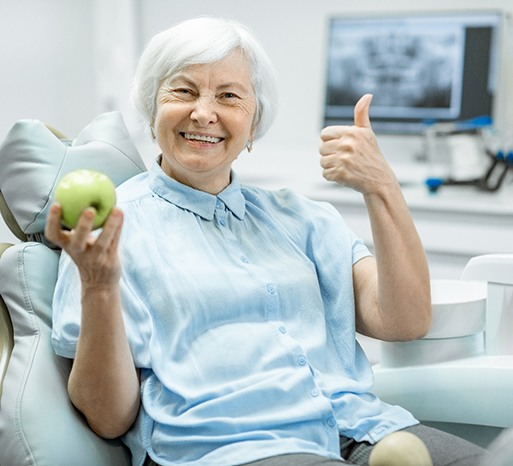 If you opt for dentures in Itasca, you'll see many upsides. These include:
Lifelike Results – Dentures' artificial teeth are lifelike and natural-looking. That being the case, you can count on them to give you a nice smile.
Boosted Confidence – Since dentures restore your whole smile, they help patients feel confident in their appearance.
Better Nutrition – By providing new teeth, dentures partly restore your ability to chew and bite food. From there, they let you eat a more nutritious diet.
Strong Lifespan – Dentures can last well over a decade when given proper care!